Workshops & Reiki
We offer professional training in First, Second & Master Degree Reiki Training and deliver various professional and therapeutic Workshops throughout the year
NOVEMBER RETREAT WEEKEND (£95)
We are saturated with choices and overwhelming demands these days.
Life is very fast. We are all spinning the plates society requires of us just to survive. We sleepwalk our way through life, feeling fragile and stressed, juggling impossible expectations thrust upon us via the media, family, work, and relationships. The aim of this weekend is to guide you out of the depths of fragility and back on the road to Personal Empowerment. The focus of this retreat is on stopping, enjoying silence, beauty and rediscovering our inner compass.
Take some time out of your busy schedule and make TIME FOR ME. "Make" the time – you'll never "find", and spend time with nature, in a beautiful location with good company and good humour to restore and replenish yourself for the year ahead!
At Gain House, Cumbernauld
Saturday 2nd & Sunday 3rd November 2019
09:00 – 17:15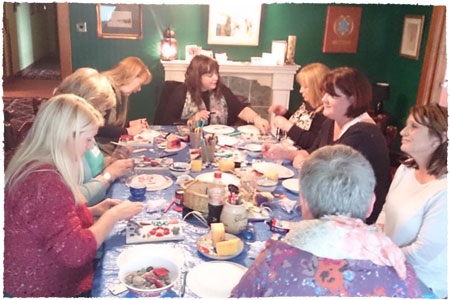 THERE IS NOTHING WRONG WITH YOU 2019 (£65)
This one-day workshop will concentrate on how to identify and to heal out negative core beliefs about ourselves. Many illnesses and habits that rule our lives are as a result of out poor self-image which ultimately leads to self sabotage. An innovative and radical approach to confidence building and self-esteem will be presented based on the work of Cherri Huber who leads the Zen Meditation Centre in L.A.
Dates provided by the clinic direct on 0141 333 0878
CO-DEPENDENCY 2019 (£65)
Most of us know on some level that in order to love another, we have got to be able to love ourselves first and although we can logically understand the concept of learning to love the self, few of us actually practice the art of loving on ourselves.
Dates provided by the clinic direct on 0141 333 0878
Reiki Training
WHAT IS REIKI?
Reiki is not a glorified beauty treatment, nor a relaxation method, it's a way of seeing & experiencing the world. A way of understanding the Energy which flows within us, and around us, and between ourselves & others. You do not have to want to "give" people reiki treatments to benefit from learning about Reiki. Reiki is a helpful pathway through our lives. We can practice simply by being present to people in a deeper way, and understanding more about this flow of energy which moves through everything. We learn about how & why our energy flow can become blocked, locked or stagnant; how to recognise & protect ourselves from the negative energy from others which can drain us, and impact on our own wellbeing & health.
It is an invaluable philosophy which brings great value to our lives. In short, you do not have to want to be a "Reiki Therapist" in order to brings the benefits of this incredible knowledge into your life.(It is especially useful for therapists, & those in the caring, helping, healing professions.)
The term Reiki can be off-putting for some; but it's simply a Japanese term , as it was first taught there, in its original form by a Japanese Zen Buddhist named Dr.Usui who lived at the turn of the last century. However, he was simply re-discovering a way of looking at & being in the world which is timeless.
REIKI 1 TRAINING 2019 (£150)
Learn the comprehensive history of Reiki Healing, the 5 principles and the hand positions required to carry out a full body treatment. Self-Reiki, grounding and protecting yourself will also be an integral part of these 2 days.
A non residential course at Angela's house in the peaceful countryside, 20 minutes outside Glasgow.
DATES TO BE ADVISED
REIKI 2 TRAINING 2019 (£170)
On  Reiki Level 2 we amplify & develop our capacity to transmit loving intent to Practitioner Level, to work as Reiki Therapists; we learn to send Distance Reiki to people & places across time & space, and how to practice Energy Space Clearing of homes/workplaces. We further develop our intuitive abilities as we learn how to live more from Heart than the Head.
The Reiki 2 course is for First Degree graduates who wish to pursue a higher level or Reiki.
You are given the gift of three sacred symbols which empower you, enhancing your relationship with yourself, other, partners and everyone you come into contact with.
In addition, you will develop the ability to send distance healing and focus the energy to clear space. A non-residential at Angela's home in the peaceful countryside, 20 minutes outside Glasgow.
N.B. Students who have undertaken training with other Reiki masters for Reiki 1 are welcomed on this course.
DATES TO BE ADVISED
REIKI (MASTERS) 3 2019 (£260)
At Reiki Master/Teacher (Level 3) some continue to develop the practice to offer the teaching & the skills others; and also to  be able to teach Reiki to clients with chronic conditions who would benefit greatly from being able to give themselves a treatment through Self-Reiki
This weekend is for Reiki 2 degree graduates who wish to deepen their experience of Reiki and to increase their energy levels. The third degree trains the student to become a Reiki Master who can offer attunements to clients who would benefit from self reiki, and to become a teacher.
N.B. Students who trained elsewhere for Reiki 1 & 2 are welcome to attend.
Another fantastic course presented by Angela's unique, easy to follow style. Just what the doctor ordered.
DATES TO BE ADVISED
WHY SHOULD YOU LEARN REIKI ?
– Reiki helps you restore & amplify your own Energy, and that of others
– You learn how to conserve & protect your own energy from others & situations that would otherwise deplete you
– You can also give Reiki to children animals, plants, in fact all living things.
– Reiki also makes a tremendous difference when used in conjunction with other Therapies/Treatments
– Therapists report a shift in the way that they work, their clarity, & level of success in their work from this new perspective.
– Reiki is fun & is a positive, life-enhancing skill
interested?
If you're interested in any course or just want more information please email us, or call on (0141) 333-0878