Training
We offer professional training in Clinical Hypnotherapy, First, Second & Master Degree Reiki Training and deliver various professional and therapeutic Work Shops throughout the year
Clinical Hypnotherapy Training
The Practitioner Diploma in Clinical Hypnotherapy (PDCH) is part time, delivered over ten intermittent weekends, usually once a month, in a classroom setting. In addition to the classroom hours, an essential part of the course is an independent guided study programme using our online e-learning facility. Here you will find a wealth of lectures, quizzes, audio files, reading material and other useful resources. Additional you will need to complete tasks and assignments, self-directed research and revision.
As part of the course you are required to attend a minimum of four personal tutorials. These are designed to help you with your clinical case study, give you a chance to go over anything that you need clarification on, and to speak to an experienced clinical hypnotherapist.
We will provide you with comprehensive weekend workbooks that deliver the core learning, strategies, theoretical background, hypnosis scripts, references, appendices, and on-going relevant activities designed to help you assess you progress. We place an emphasis on the practical element in you hypnosis training. This allows you to get valuable experience in working with people who are in trance, as well as enjoying the benefits of the trance experience yourself. This experience forms part of your personal development, and many of our students notice an increase in their confidence, being more calm, and with a positive mental attitude too.
In accordance with good ethical practice, it is mandatory to join the British Society of Clinical Hypnosis (BSCH) as a student member. This is a national professional body promoting and assuring high standards in the practice of hypnotherapy.
For more information head to LCCHInternational.co.uk
REIKI 1 TRAINING 2019 (£140)
Learn the comprehensive history of Reiki Healing, the 5 principles and the hand positions required to carry out a full body treatment. Self-Reiki, grounding and protecting yourself will also be an integral part of these 2 days.
A non residential course at Angela's house in the peaceful countryside, 20 minutes outside Glasgow.
Saturday 27th & Sunday 28th April 2019
Saturday 24th & Sunday 25th August 2019
REIKI 2 TRAINING 2019 (£160)
The Reiki 2 course is for First Degree graduates who wish to pursue a higher level or Reiki.
You are given the gift of three sacred symbols which empower you, enhancing your relationship with yourself, other, partners and everyone you come into contact with.
In addition, you will develop the ability to send distance healing and focus the energy to clear space. A non-residential at Angela's home in the peaceful countryside, 20 minutes outside Glasgow.
N.B. Students who have undertaken training with other Reiki masters for Reiki 1 are welcomed on this course.
Saturday 22nd & Sunday 23rd June 2019
Saturday 7th & Sunday 8th December 2019
REIKI (MASTERS) 3 2019 (£250)
This weekend is for Reiki 2 degree graduates who wish to deepen their experience of Reiki and to increase their energy levels. The third degree trains the student to become a Reiki Master who can offer attunements to clients who would benefit from self reiki, and to become a teacher.
N.B. Students who trained elsewhere for Reiki 1 & 2 are welcome to attend.
Another fantastic course presented by Angela's unique, easy to follow style. Just what the doctor ordered.
Saturday 14th & Sunday 15th September 2019
JANUARY RETREAT WEEKEND (£95)
We are saturated with choices and overwhelming demands these days.
Life is very fast. We are all spinning the plates society requires of us just to survive. We sleepwalk our way through life, feeling fragile and stressed, juggling impossible expectations thrust upon us via the media, family, work, and relationships. The aim of this weekend is to guide you out of the depths of fragility and back on the road to Personal Empowerment. The focus of this retreat is on stopping, enjoying silence, beauty and rediscovering our inner compass.
Take some time out of your busy schedule and make TIME FOR ME. "Make" the time – you'll never "find", and spend time with nature, in a beautiful location with good company and good humour to restore and replenish yourself for the year ahead!
At Gain House, Cumbernauld
Saturday 26th & Sunday 27th January 2019
09:00 – 17:15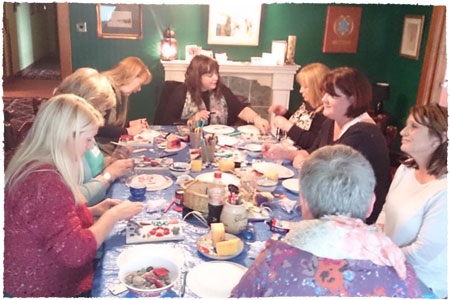 THERE IS NOTHING WRONG WITH YOU 2019 (£65)
This one-day workshop will concentrate on how to identify and to heal out negative core beliefs about ourselves. Many illnesses and habits that rule our lives are as a result of out poor self-image which ultimately leads to self sabotage. An innovative and radical approach to confidence building and self-esteem will be presented based on the work of Cherri Huber who leads the Zen Meditation Centre in L.A.
Saturday 2nd March 2019
09:00 – 17:15 
CO-DEPENDENCY 2019 (£65)
Most of us know on some level that in order to love another, we have got to be able to love ourselves first and although we can logically understand the concept of learning to love the self, few of us actually practice the art of loving on ourselves.
Sunday 3rd March 2019
09:00 – 17:15 
interested?
If you're interested in any course or just want more information please email us, or call on (0141) 333-0878